m.a.m.a. earth has been making a change for the better with art, music and nature since 2007. It all started when m.a.m.a. earth founder, Jaime Kailani, was working as a booking manager for her little brother, Bruno Mars, who had just moved to Los Angeles to get his music career going. As she begin to form relationships with clubs and bars all over Los Angeles, she felt moved to do something GOOD for others, to make it EASY for people to give to important causes – all while having fun. Of course, Jaime Kailani enlisted her brothers Bruno and drummer, Eric, to perform at the first m.a.m.a. earth fundraising concerts and asked Bruno's writing partner, Phil, to host once in a while. The rest, as they say, is "her-story."
Since then, Bruno Mars has become a worldwide success as a producer, songwriter and performer while m.a.m.a. earth has continued to produce fundraising concerts and all-ages enrichment classes about art, music and nature. Once in a while, Bruno has tweeted  or shared something on Facebook about m.a.m.a. earth and because of this, the m.a.m.a. earth audience has gone global.
CLICK HERE TO HELP US GROW OUR GLOBAL CHAPTER PROGRAM.
Last year, we began to form 'chapters' of m.a.m.a. earth in different countries like the Philippines, Chile, Germany, the UK and Brazil.  The Brazil chapter is led by Amanda Oliviera who runs the largest Bruno Mars fansite in Brazil and also created "Project Count on Me".  They have been organizing gatherings in Rio de Janeiro and Sao Paulo to encourage fans to embrace the kinds of charitable causes endorsed by m.a.m.a. earth. Amanda writes,  "I have been taught since childhood to be in solidarity with those in my country and community and do my best to lend a hand whenever I can help people!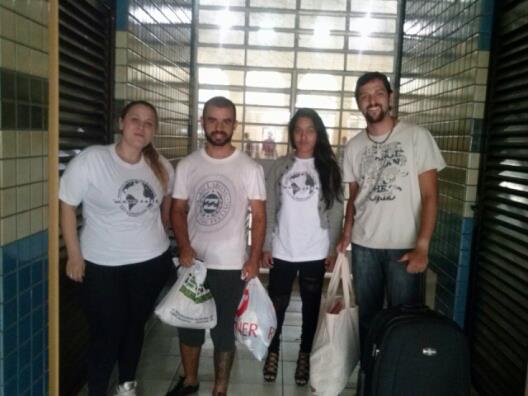 Recently, Amanda shared her latest project working with Missão Cena, a non-profit organization that helps homeless people and needy families in the old center of São Paulo. Amanda's team met with volunteers that come from places like Germany and Switzerland. These foreign volunteers come to Brazil to learn more about working with children and people who are addicted to drugs. Amanda's team raised money to purchase needed items for Missão Cena and also volunteer as they fed 150 people. After the meal,  people can use the facility to do the things that many of us take for granted –  take a bath, get their haircut, etc.  Amanda's team also donated toys they collected for the children.
Amanda wrote to us, "I was horrified by the situation of addicts on drugs, it's really unfortunate, it was a difficult experience." She has pledged to continue bringing people together in Brazil to do more work to make changes for the better for others.
Here is a short video about their experience, some of the English translation is a bit fuzzy but you can get the idea:
hank you, Brazil! We are proud of your initiative and look forward to supporting you more!
CLICK HERE TO HELP US GROW OUR GLOBAL CHAPTER PROGRAM.
Notes
kriwatmars reblogged this from bmarsupdates
Ask